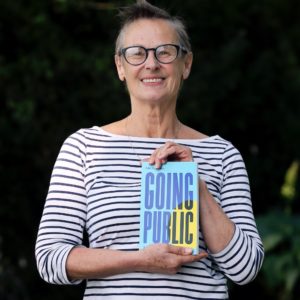 In 2014 Julie "came out" as a survivor of sexual abuse, rape and domestic violence. Her new book "Going Public: A Survivor's Journey from Grief to Action" (Between the Lines 2020) describes her personal experiences and then her journey through both the civil and criminal systems to find justice for her sexual abuse by an Anglican church minister as a teenager.
Beginning with her then employer (the University of Windsor) Julie has also worked with students and faculty to focus attention on shortcomings in university policies and programs for responding to sexual violence.
Julie works with colleagues in universities in Canada, the US and the UK to draw attention to the failure of universities to protect students and employees from sexual harassment and predation, and the need for more robust, transparent and effective processes. She also works on related legal system issues including the use of "experts" and widespread practice of demanding non-disclosure agreements or "gags" on survivors. She is a regular speaker on the impact of PTSD and how lawyers, clinicians and supporters can best understand and support people with PTSD, including herself.
CBC News, April 1, 2022 by Michael Gorman "Nova Scotia's justice minister said officials in his department are taking a preliminary ...
Podcasts on Sexual Violence
CBC News, April 1, 2022 by Michael Gorman "Nova Scotia's justice minister said officials in his department are taking a preliminary ...
CTV News- Winnipeg, February 12, 2022, Avery Haines "W5's Avery Haines investigates the use of non-disclosure agreements in civil ca...
The Toronto Star, January 26, 2022 by Jacques Gallant "Zelda Perkins, who once worked for Harvey Weinstein, and law prof emerita Jul...
Times Higher Education, January 26, 2022, by Julie Macfarlane "If universities will not give up NDAs, how can we expect pr...
Federation of Asian Canadian Lawyers , Nov 29 2021 "In this episode, we sit down with Dr. Julie Macfarlane, Order of Canada recipien...
CBC Radio The Sunday Magazine December 5, 2021 with Piya Chattopadhyay "Prince Edward Island is the first province in Canada to pass...
Vancouver Sun December 3, 2021 by Ian Mulgrew "University of Windsor professor and a founder of the campaign for the law — Can't Buy...
CBC News December 3, 2021   by Kerry Campbell "Multiple sources say non-disclosure agreements used to silence harassment allegations...
CBC News - Canada Tonight with Ginella Massa , Nov 9 2021  Watch Canada Tonight Ginella Massa interview Julie Macfarlane (who assist...
CBC NEWS Nov 9, 2021 by Kerry Campbell "A private member's bill tabled in the P.E.I. Legislature could make the province the first i...
PEI Guardian, Oct 15, 2021 by Julie Macfarlane "MLA Lynne Lund is introducing a new bill into the P.E.I. assembly later this month t...
The Mediate.com Podcast with Victoria Cravener Interview with Julie Macfarlane with Can't Buy My Silence, Oct 6 2021 "In this episod...